No slides are available
Statistics compiles by Kind Hearts In Action between December 2008 and August 2011.
"I'm sorry, but your dog has distemper. You should have him put to sleep."
This is what dog owners around the world are told far too often. According to the experts, distemper is an incurable disease from which few dogs survive. Euthanasia is the frequent course of action.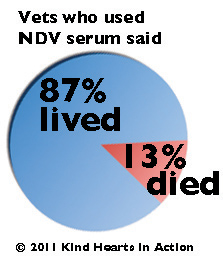 But we'd like to show you some facts that we hope will give the experts a reason to think again. Hundreds, perhaps thousands, of dogs could be needlessly dying of this disease every year.
Since December 2008, Save Dogs From Canine Distemper, a project of Kind Hearts In Action, has been tracking the effectiveness of a treatment discovered by a little-known vet in Lancaster, California. Dr. Alson Sears could not get the veterinary community to listen to him when he first discovered NDV-induced serum in the late 1960s. But now, our numbers support Dr. Sears' claim that distemper is curable.
We have received reports from 14 vets who have used NDV to treat distemper dogs. Of those, 10 vets used NDV-induced serum in the early stages of the disease, and in 87 percent of those cases, the distemper dog survived. Dog caregivers — owners, fosters and rescuers — tell us that more than 65 percent of distemper dogs were saved by one of the treatments developed by Dr. Sears using NDV — Newcastle Disease Vaccine.
These numbers were compiled from e-mails from dog caregivers and from a survey of vets using the NDV treatments. These statistics support our primary conclusion is that if dogs can be treated within four to six days of the onset of symptoms, the majority of these animals can be saved. Our conclusion is also supported by a study conducted in Korea in 2003, which is included below.
However, the survival rate also relies on getting a fast diagnosis, on having a supply of serum available, and in successfully treating the dog for the opportunistic diseases — such a pneumonia — that often accompany distemper.
For this report, the vets were asked for just numbers of dogs treated and saved, but for our new effort called Project Carré, we plan to gather the kind of detailed, specific kind of data that will stand up to scientific review.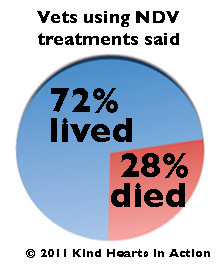 So, our work to prove the effectiveness of these treatments is not done. Any vets who have information about specific dogs they have treated with NDV-induced serum are asked to e-mail Ed Bond at ed.bond.new.york@gmail.com. These statistics will be updated routinely as we receive further reports.
If this treatment can be published and accepted in a veterinary journal, we believe the lives of countless dogs can be saved.
History
Dr. Alson Sears, a veterinarian in the desert community of Lancaster, Calif., discovered how to use Newcastle Disease Vaccine (NDV) as a treatment for canine distemper in the late 1960s. The basic principle of the treatment is to use the NDV as an inducer to prompt a reaction in the dog's immune system that can create a material to kill the distemper virus. The protocol for making the serum is available here.
During his years as a practicing vet, Dr. Sears reports treating more than 600 dogs for canine distemper. He says that dogs infected with the distemper virus treated before going through the sixth day of showing symptoms had a survival rate in the high 90s. Dr. Sears was not able to get his discovery published. He retired in 2006.

However, his treatment had been made available on the Internet since May 2000 [http://www.edbond.com/distemper.html], and some vets have followed his treatments and theories with success. Today, the NDV treatments include the NDV-induced serum, the NDV as an IV injection to the body and the NDV spinal tap, which is for dogs in the neurologic stage of distemper.
Report on outcomes from veterinarians
According to 14 veterinarians who have reported outcomes to Kind Hearts In Action, 356 dogs infected with the distemper virus have been treated with at least one of the NDV treatments. Of those, 257 survived (72 percent). Ten of these vets reported treating 203 cases with the NDV-induced serum of which 177 survived, for a survival rate of 87 percent.
It is important to note that 150 of these dogs were treated in 2010 with NDV-induced serum by a Houston area vet as part of Project Hope. They report that of the 150 dogs that were treated with NDV-induced serum, 90 percent survived – 135 dogs. Combining these numbers with the efforts of other vets, Project Hope reports saving nearly 200 dogs from canine distemper.
The other cases include 108 dogs that were treated with NDV as an IV injection, of which 65 survived and 45 treated with NDV spinal taps of which 15 survived. Two of the surviving dogs treated with NDV as IV in Puerto Rico were also treated with NDV-induced serum. Here is a report on a dog treated with the NDV spinal tap by a vet in Alberta, Canada.
Vets who had reported on the effectiveness of the treatments were from Florida, Texas, California, Puerto Rico, Canada, Hungary, Romania and the Philippines. One vet in the Los Angeles area reported treating five dogs with NDV as IV, but did not learn the outcomes of those cases. Another vet in Southern Florida reports having used NDV on distemper dogs 27 times since 2009, but did not have the reports on outcomes available. These cases where the outcomes were unknown have not been added to the totals from the vets.
Report from Korea
A study on the effectiveness of the NDV-induced serum was also conducted in Korea in 2003. According to Dr. Kim Hee-Young, DVM, MS, PhD, the senior researcher for the Korea Animal Blood Bank, that was when he discovered the website about Dr. Sears' treatment. He reports:
"In 2003, 102 dogs (from 12 vets) were diagnosed by ELISA as Distemper infection. Of them, the 54 dogs (52 %) were recovered completely on the check-up 6 weeks after the Sears treatment. In Korea, the success rate of conventional treatment in cases confirmed as Distemper (ELISA) was usually lower than 8 %."
Dr. Sears' serum has been available on the inventory of the Korea Animal Blood Bank since 2004.
 [http://board-1.blueweb.co.kr/board.cgi?id=vet20&bname=news&unum=14&action=view]
Dr. Kim Hee-Young writes:
"We have used Sears plasma (serum) in Distemper cases and found it works wonderful. … But, cases more than 5 days after symptoms or with neurological symptoms did not show any improvements. Some of the vets reported deterioration after injection. Thus, we don't recommend to use it in cases which had shown distemper symptoms more than 4 days."
Report on outcomes from dog caregivers
Since December 2008, dog caregivers — owners, fosters and rescuers — have reported the outcomes of 560 distemper cases to Kind Hearts In Action. Of these, 365 dogs with distemper were treated with an NDV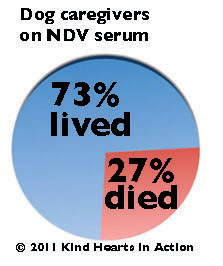 treatment and 236 survived (64.6 percent survival rate).
This includes:
• 119 of 163 distemper dogs treated with serum that survived (73 percent).
• 51 of 68 distemper dogs treated with NDV as an IV injection that survived (75 percent)
• 66 of 134 dogs with neurologic distemper treated with the NDV spinal tap that survived. (49 percent)
There were also 195 cases that were not treated with NDV, of which 51 survived. (26 percent.) Also, 41 cases initially thought to be distemper were later diagnosed with a different disease. Of these, 30 dogs lived and 11 died. These were not included in the 560 cases listed above.
Additional photos, videos and owner testimonials of dogs successfully treated for canine distemper are available at http://kindheartsinaction.com/
If you have additional reports to share with us, please e-mail ed.bond.new.york@gmail.com and we will update these numbers as we receive them.
Conclusions
If anything, the numbers above show that distemper can be a treatable and survivable disease. Even without using NDV, about 25 percent of dogs can survive the initial infection of distemper. However, those dogs that do survive without treatment often have done so through the extraordinary efforts of the owner or caregiver. Such dogs often survive with neurologic problems, damage to teeth and other issues. But these dogs are also at risk to continuing and advancing neurologic problems that may lead to death later on.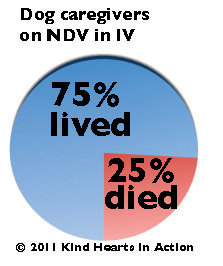 The timely use of NDV can greatly increase the odds of survival and limit the damaging effects of the distemper virus. According to caregivers, the overall survival rate for dogs treated with one of the NDV treatments is 64.6percent. According to vets, the overall survival rate is 72 percent, but that climbs to 87 percent when considering only those cases treated with the NDV serum before the onset of neural problems.
Our position continues to be that treating with the NDV serum before it goes through the sixth day of symptoms is the most advantageous way of treating a dog suffering from distemper. The report from Korea recommends treating within four days of symptoms, and that also seems to be a reasonable goal. The sooner a dog can be treated, the better.
In the statistics from the caregivers, the IV injection of NDV has an slightly better survival rate than the NDV-induced serum at 75 percent. The NDV vaccine can be acquired and given to a sick dog as an IV injection very quickly. So, many dogs have been saved that way, and it spares the dog owner from an agonizing delay as they would have to persuade a vet to make the NDV-induced serum with a donor dog. The faster a dog can be treated, the better.
However, the problem with giving the sick dog a straight injection of the NDV is that recovery relies on the animal's immune system being strong enough to create the needed response to fight the distemper virus. We believe this is a previously unknown material or group of interacting materials, possibly operating at the level of the RNAi system, that is able to neutralize the invading virus. However, finding the answer would require extensive scientific research.
If the dog's immune system is strong enough, this material can be made from the NDV injection and save the animal. If the immune system is too damaged to respond or if the dog is of a breed that does not make the needed response, the straight NDV IV injection will not save the dog. According to Dr. Sears, breeds that do not have the needed response include include German shepherds, poodles, Irish setters, Gordon setters, English bulldogs and Shar Peis. Puppies younger than 12 weeks are also not likely to have the NDV response, and so serum is the only means to treat them with the disease-fighting material.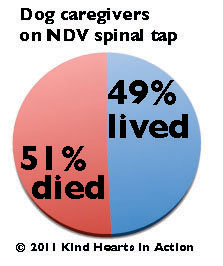 The serum can be more effective because the NDV is injected into a healthy dog of a breed known to make the immune response, which is then withdrawn and used to treat the sick animal. It is with vets who already have the serum on hand that the most success has been seen. The timely diagnosis of distemper in dogs is also critical in saving lives. This is why Dr. Sears came up with a quick and reliable test for distemper by checking the cells of the bladder in what is called a Brush Border Smear.
Dr. Sears was able to save dogs at a rate in the high 90s because he was able to quickly identify distemper cases and treat the dogs before the narrow window of opportunity closed. Similarly, the vet in Houston was able to save a large majority of dogs because of the ability to treat dogs quickly with a readily available source of serum. This appears to us to be a key to success, and perhaps further studies could provide more confirmation and learn the mechanism by which this serum works.
However, the use of the serum does not guarantee that a dog will be saved. Distemper often opens up other opportunistic infections such as pneumonia. Vets and caregivers have reported that even though they saw distemper symptoms reverse after NDV treatment, the dog died of pneumonia, another disease or medical problem. Dr. Sears has written a protocol of recommended treatments to give dogs an improved chance of survival.
As to the NDV spinal tap, it does offer some hope for the owner of a distemper dog that has gone into the neurologic stage of the disease. However, the chances of survival are only 50-50. For some of these dogs with neurologic distemper, they were saved because the caregivers put in extraordinary effort and intensive nursing care in addition to the NDV spinal tap. So, it exists as a way that can save some dogs. Here are some additional notes from Dr. Sears on measures to take after the NDV spinal tap.
Further information is available at http://kindheartsinaction.com/
We invite any reasonable, skeptical inquiries into this report.
Ed Bond
ed.bond.new.york@gmail.com
Kind Hearts In Action
Aug. 7, 2011
Copyright © 2011 Kind Hearts In Action Corporation. All Rights Reserved.
NDV in the news
Stories about these treatments in the media.