Help us cross the finish line and prove distemper can be cured
Project Carré began with a goal of seeing the NDV treatments published in a veterinary journal. We're close to the end of the race against this awful disease and can see the finish line: a widely available treatment for dogs that are suffering and dying.

Thank you for your support. When we have news to report on the publication of these treatments, we will be posting it here.
---
---
Project Hope
In the meantime, you might also choose to support Project Hope, an effort to get NDV-induced serum made in the Houston area. Starting in 2010, vets working with Project Hope helped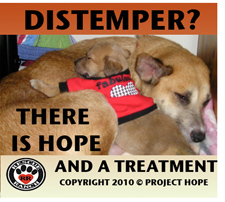 save almost 200 distemper dogs in California, Arizona, Florida and Texas. If you want your donation to go to Project Hope, use the Network for Good button above and write "Project Hope" in the designation field for your donation, or use this PayPal button below:
Copyright © 2013 Kind Hearts In Action Corporation. All Rights Reserved.