Sammie
Received May 25, 2009: Ed: This is Sammie's story detailing his treatment to cure distemper.We adopted Sammie on April 21, 2009,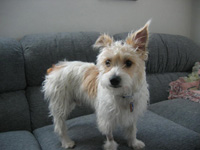 from Miami Animal Services. Only two days after we brought him home, he got very sick with what we thought was Kennel cough. When it got really bad, I took him to our Vet who diagnosed Distemper. He told us that we could treat the symptoms and that some dogs were able to survive. He said there was no cure for Distemper and if it got really bad with Neurologic problems, we would need to "put him down.' I wasn't willing to accept this and starting researching the Internet to see if there were any other options. That's when I found Ed's site and the Facebook site. By May 5th Sammie was having as many as eight seizures a day and I was getting really scared we wouldn't be able to get him treated in time. With the help of Ed Bond and Pippit Carlington I was able to find a vet in Atlanta who was willing to perform the NDV body and spinal treatment for Sammie. This was done May 18, 2009, at his clinic in Atlanta. The next day we brought Sammie home to Miami. He will need to take medication for the seizures, possibly for the rest of his life, but we are also hopeful that he can out grow and repair the damage caused by the CDV. I have attached three pictures showing Sammie before the procedure and a picture taken Six days after his treatment. The third picture shows his head with the hair shaved off for the spinal injection. You can see from the after picture how well he is doing now. Sammie is on Phenobarbital for the seizures. We had some difficulty settling on the correct dosage but since our Vet made the last adjustment (May 21) he has been seizure free.
Ed, please feel free to post our story on your Web site.
Regards, Harold & Pamela Allen Kendall, Fl
UPDATE: (Received June 4, 2014) By the way, Sammie is one of the Distemper cure success stories. Last month we celebrated five years since he received the NDV spinal tap … He is now very healthy. — Harold Allen