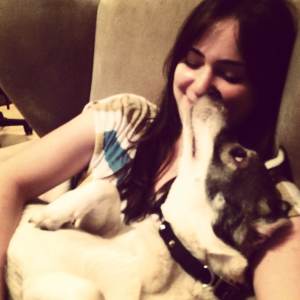 This is just an example of the how a simple thing like answering an email can have a big impact, even if you don't find out until much later. This is also why we are always glad to get updates on how your dog's recovery is going.
Exactly one year ago today, I received this email from Ecem Sümer:
"I live in Istanbul, Turkey. I rescued a dog from shelter 3 days ago but yesterday found out that he has canine distemper. I feed him with Hill's a/d. If there is a vet in Istanbul that can cure the disease I'll be really thankful if you send me the contact info. Thank you."
As a matter of fact, I did know of a vet in Istanbul who has saved many dogs from distemper. I sent her the contact info and all of the key information about fighting the disease, including the usual warning that "We offer hope, not a guarantee."
I heard nothing more … until November, when I received this message:
"Hello again
I emailed you in January about my canine distemper puppy. You gave me the name of a Turkish vet Sinem Karslı and we went to her clinic. She cured the disease for a very reasonable price in two weeks. My dog is a very healthy dog, no one can notice that he had distemper. There are no symptoms left. He is just as normal as the other dogs. Thank you very much! He could not be here if it weren't you. We are really grateful. You are doing an incredible job. I came across the email I sent you back then and got really emotional so I want to send another one to thank you :)"
Just today she sent me some pictures of her dog. Here they are.
This just made my day. Thanks so much for writing!
Ed Bond
Jan. 5, 2015