From Rochelle Puczkowskyj of Arizona:
Below is my experience with Distemper.
Treasure:
Toy Poodle 5 lbs, 18 months old.
Rescued from Santa Cruz Animal Care Center, Nogales, Arizona 9/7/16
Rabies shot, DHPP/spay 9/7/16
9/10/16: fever spike 105.2
Given subcue fluids and amoxicillin
9/11/16-10/09/16: temp 102-102.5 energy level: Normal  eating well.
10/10/16: Fever spike 105.8
Eyes and nose crusted, cough
HOSPITALIZED  Nogales Veterinary Clinic, Nogales AZ,
Diagnosis: Pneumonia
10/14/16 Friday:
added symptoms, muscle twitching and inability to hold up head.
Diagnosis Distemper.
Told about NDV serum, but could not be treated in time.
Put to sleep
Above is a non-emotional description of a traumatic experience.
What I have found out is that Distemper mimics several other diseases and is often misdiagnosed, as kennel cough, pneumonia, allergies and sometimes, even Valley Fever. Blood tests are not an effective way to diagnose.  Until the dog has all the symptoms or a smear test is done specifically for Distemper, the disease is wracking havoc on the dog.  Once, the disease has all the symptoms, it is too late.
The one hope was not revealed to me until it was too late.  NDV serum is only effective within 6 days of onset of symptoms.  Treasure was already in her fourth day with full blown symptoms and would have to wait thru the weekend, plus Monday and Tuesday to get the vaccine.  That would bring her into her eight day of symptoms.  She was already getting the muscle twitching and seizures.  It was too late.  She had to be PTS.
However, being in dog rescue held other problems.  There were other lives at stake in my home.
As soon as a dog is rescued, they are given Rabies, DHPP and altered.
DHPP:
1. The DHPP vaccine does not protect them from a disease they have already been exposed to prior to rescue.
2. The vaccine takes several days to be effective
3. The vaccine does not give 100% immunity even after that
Finnegan, 12 lb 18 month old toy poodle was rescued and given vaccine on 9/28/16.  He came home with me on 9/30/16, where Treasure already was living.
10/18/16 PM: 103.5 temp, stopped eating, wheezing cough, low energy level
10/19/16:  Vet prescribed NDV serum and Covenia injectable antibiotic,
10/21/16:  Began NDV serum injection series every 12 hours for three injections.
10/22/16  Temp 102.3  eating when hand fed, sleeps a lot
10/23/16  Temp 102  eating better, low energy, sleeps a lot.
No additional symptoms
---
10/24/16  Finished NDV serum three injections at 4:20 PM on 10/22/16.   This entry was made approximately 48 hours after final injection.
Temp normal, appetite good for turkey lunchmeat, drinking water, normal bowel and bladder movement, barks and plays with toys.  Very interested in other dogs barking outside of his quarantine room.  I took him outside away from other dogs.  He loved it.  He is totally house trained and had been saving it for when he was taken outside, so he went about his business and enjoyed the approaching stormy sky.  He has slight breathing noises, slight cough and NOSE CRUSTY.  see picture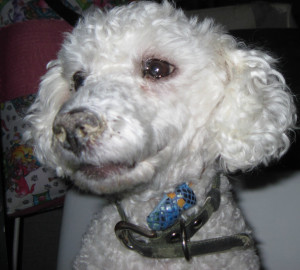 ---
10/26/16  Finnegan's nose is not as crusty.  He actually ate all by himself today.  He is still wheezing, however.  LIttle baby steps….I am hopeful.
---
11/5/16  Finnegan is doing well.  Slight sneeze once in a while. Cough is gone.  He is eating and drinking well.  I would say he is recovered thanks to the NDV serum, my veterinarian in Nogalas, Arizona, and your support.  He is a happy boy.  Today I took his picture playing with his toy. see attached.
THANK YOU